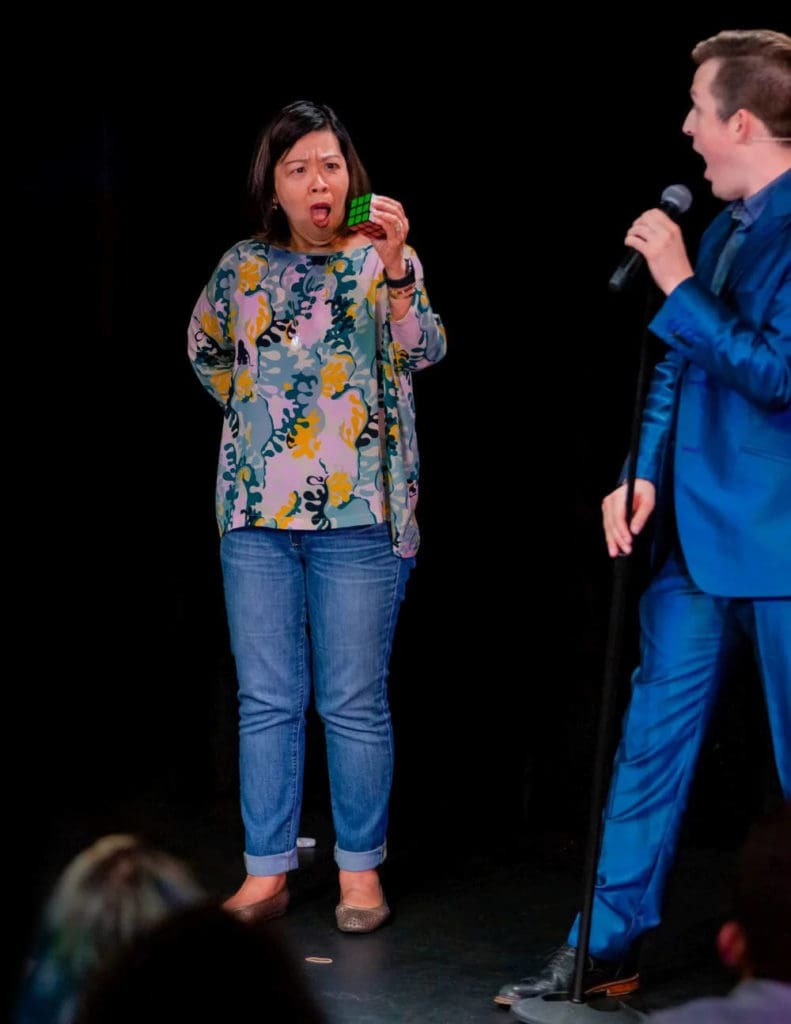 This is one of my favorite photos of all time.
It's me with a woman from the audience who was brave enough to come up on stage and join me for a demonstration.
As you can tell, it was pretty dang amazing.
Neat, right?
This is the heart of my work, because think about it: the number one phobia?
Public speaking!
Not only is she 1) in front of hundreds of people, she's 2) having a fun time!
How does this happen?
Applied Mentalism.
I'm combining the power of fundamental psychology & motivation with communication skills, persuasion, trust-building, and more behind the scenes.
And I'm sharing my secrets.
Marketing: How do you put yourself out there into the world in a way that helps the right people want to work with you (and the wrong people never waste your time, too)?
Sales: How do you land B2B corporate opportunities worth ten's of thousands of dollars as a solopreneur more quickly & more easily?
Negotiations: How do you find fair & successful agreements in high stake situations where the pressure's on?
Presentations: How do you make your point without making enemies? How do you help your team understand your mission? How do you pitch investors on your start-up idea? How do you persuade thousands of people on video?
Institute Of Applied Mentalism
I'm happy to be bringing all these skills to the world through my new training & community platform.
It's application-only, and I'll be rolling out the first wave of cohort training soon.
The focus will be on sales first as it's the easiest & fastest way for most people to land bigger opportunities by changing a few tweaks.
So, basically, I'm teaching you how to make clients feel this way about your work:
So, if you're interested, check out the site here: InstituteOfAppliedMentalism.com and fill out the application to get a head start.
See you on the inside!
Best thoughts,
~Jonathan